Welcome to Klabauter Standard Schnauzers
Klabauter Standard Schnauzers specialises in Black Only Standard Schnauzers. It was necessary to use European bloodlines, and this started with the importation of the wonderful dog "Ozzie" - CH BORN TO OZ GRAND CALVERA (imp CzRep), who has produced a number of Klabauter litters. He comes from illustrious bloodlines:
Son of VON SHAMAN KPNG UP APPRNCES - WORLD WINNER 2008
Halfbrother to DEEP PURPLE GRAND CALVERA - WORLD WINNER 2009 and TACILLAN SUPER STAR - WORLD WINNER 2014.

Importing this dog and frozen semen from various stud-dogs is the result of a desire to improve the black standard breeding in Australia, where we have had a history of cross breeding blacks and salt and peppers, which has led to significant dilution in the colour. In Europe the blacks and salt and peppers are considered separate breeds. Imported bloodlines were the only option, and we are immensely grateful to Grand Calvera Kennels from the Czech Republic for making this possible. We will continue to work with new bloodlines from Europe, and have met some of our frozen semen sires on a visit to the World Dog Show in Helsinki in 2014. Ozzie's half sister took out World Winner 2014 - so it will be a great challenge to do better!
Our latest successes with frozen semen are the matings of Ch Klabauter Kenya (AI) to Multi European Champion Djarfur Noir vom Schwarzen Opal pictured below, producing the S Litter, and the U-Litter sired by Multi Champion RESPECT od DALAJSKÉHO POTOKA and the W-Litter by Totem Otisboanergos Grand Calvera . Very exciting times !! Please visit our pages for 'males' for information about the sires used in our breeding program.
Smartie from Djarfur Noir has now produced the X-Litter for us, and we may retain a female.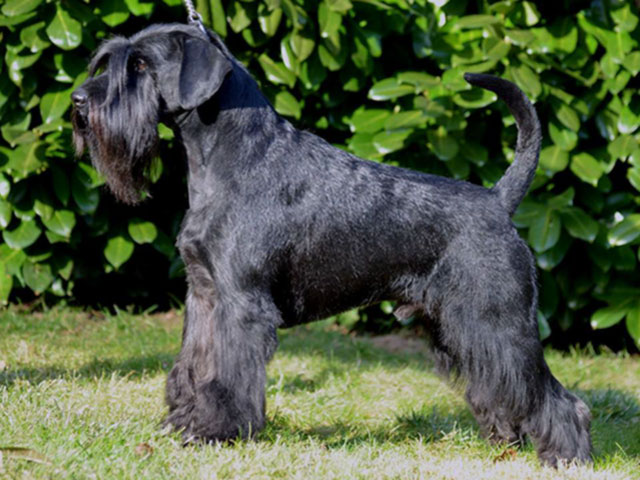 Over the years we have received some very nice Updates from Klabauter Puppies. We have put some of them on this website, and we also have a News page to keep you up to date. The menu at the top of the page allows you to get around, and to find information about the Breed, the Breed Standard, Puppy Care and Grooming.