Breed Overview
The Schnauzer comes in 3 sizes: Miniature – Standard - Giant
The Standard Schnauzer, "Mittelschnauzer" in Europe, is the original breed. The breed originated in the German speaking part of Europe, and its history is closely linked with that of the German Pinscher. Even today Schnauzers and Pinschers are looked after by the same breed club in Germany. The breed was used and bred to be an all-round farm dog – to guard, catch rats and even bring in the sheep and cattle (they are used in herding trials in the US today).
The Breed Standard is very similar for all three sizes of Schnauzer. The Standard and Giant Schnauzer come in two colours, either Salt & Pepper or Black. In Australia these two colours have been interbred, with Black being the dominant colour.
The original dogs imported into Australia came mostly from the USA or from Sweden, with the Swedish lines usually presenting a more European type dog with less furnishings but a harsher coat, and the US lines showing a more elegant and refined dog with generally much longer beards and fluffy legs. There has only been very few black males imported into the country many decades ago, and all black dogs here came from those, mated with salt and pepper bitches.
In Europe, the black and the salt and pepper are actually considered separate breeds, and in most countries are not cross-bred or shown in the same class. This means blacks there have long pedigrees of all black ancestors, and correspondingly better black colouring. It should be noted though that even in Europe a black standard schnauzer is never as black as, say, a black Labrador. They all show some degree of fading in furnishings and parts that are normally clippered rather than hand stripped.
Coats
This brings us to their coats - the Schnauzer has a longish coat if left to its own devices. It is meant to be 'stripped' out, if a dog goes into the showring, to maintain the harsh texture of the topcoat. With this type of coat comes the benefit that it does not shed. This means that there is hardly ever any dog hair in the house – quite a significant benefit, which can of course also benefit people who otherwise may have slight allergies to dogs. In wet weather or after a bath, the Schnauzer does not seem to exhibit a 'wet-dog' smell, a very nice feature.
Stripping the coat can be done either as a full strip – every few months, where all the topcoat is removed – or as a 'rolling coat' where every week the longest hairs are removed and the coat remains smart all the time. Stripping a Schnauzer involves some time, and for a pet dog, this may not be necessary.
A Schnauzer can just be clipped with animal shears, a skill anyone can acquire. This can be done every few months, and takes about an hour to do. The head will need more frequent attention to maintain a 'smart' look – perhaps some clipping and scissoring of the eyebrows and legs every 6 weeks or so, which should not take more than 10 minutes. It should be noted though that clipping the Schnauzer will mean that the harsh texture of the topcoat may be lost, and a more silky, uniformly grey appearance results. Black dogs may appear platinum grey rather than raven black. For the showring, black schnauzers must be stripped all over, preferably even on the head and ears, to maintain the deep black colour.
Temperaments
The best thing about a standard schnauzer is their temperament though. They are very clever, always there for you, loving and happy to participate in activities (obedience, agility, swimming, farming, even boating). At the same time, we try to not produce very 'high energy' animals, as most of them will go to families with children or live in suburban settings. Most of them will be quite happy to just 'hang out' for most of the day. They are very adaptable to different environments, and will fit in with the environment on offer as puppies. However, they will always be individuals, and all have their own personalities.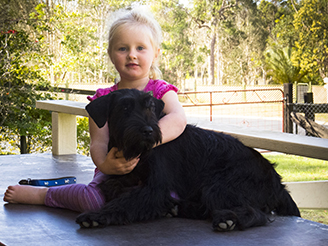 We select our sires and within our own lines to try to breed the perfect family dog. This has been succesful, as many Klabauter puppies live with families with young children, and their temperaments and versatility make them ideal additions to those households. This also applies in our house, where our gang of Schnauzers are the best friends of our three and our one year old. We can absolutely trust them with our children. See our Updates from Klabauter Puppies page for some of the feedback.